I'm an experienced photography tutor of all ages and levels teaching one-to-one or group workshops in many different photographic subjects such as camera controls, street photography, architecture, studio photography (including specialist lighting, UV and IR lighting), land/seascapes, portraits, abstracts and fine art photography, documentary projects and curating/exhibiting.
To book please email me at londonpresspix@aol.com for dates and availability
One-to-one Training
Individual sessions start from £100 for 2hrs.* Personalised to you, learn at your own pace, choose the subject you are interested in either studio or on location. Bring your partner along for an extra £50. Handy if you are going on holiday!
For businesses, prices start at £150 per person per 2 hours. To shadow me and learn while I photograph your products, from £500 per half day (4hrs).
* Based on Central or South London locations. If travel is required outside Zone 6, my travel costs will be chargeable. In Central London, if travel between locations is necessary, walking, public transport and Black cabs are preferable but if you prefer, you can use your taxi company of choice.
Group Workshops
Group workshops are usually limited to up to 8 people with a minimum of 4 to run the course. This ensures I can give each of you the attention you deserve. Costs for group workshops start at £120 per person per day and usually run from 10.30 – 4.30pm. Longer days to incorporate sunrise and/or sunset start at £200 per person depending on the time of year.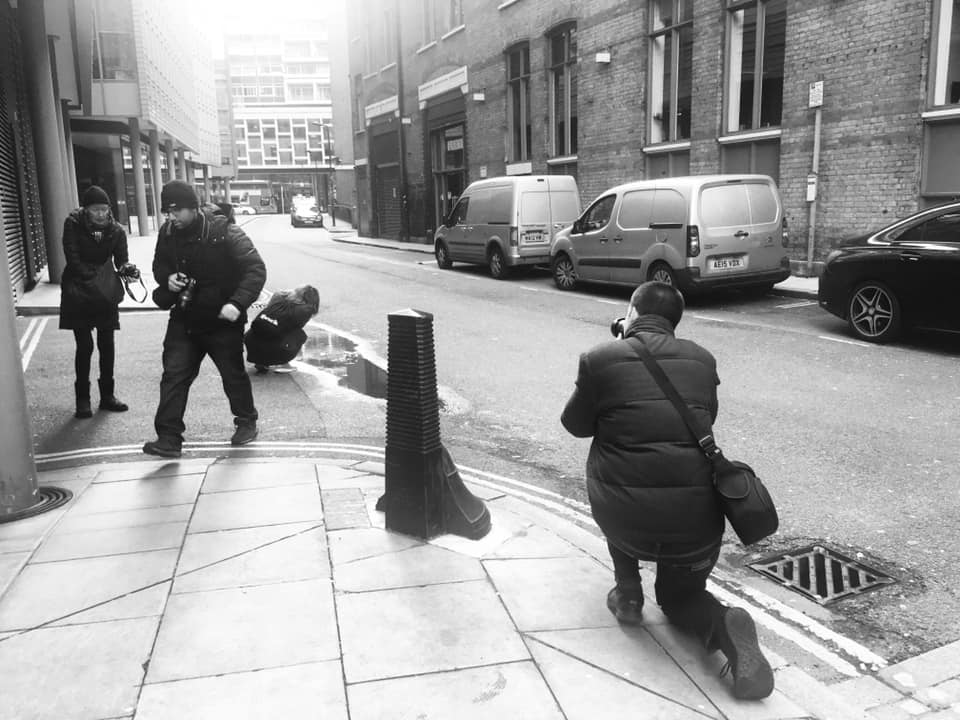 Overseas Workshops for 2019/20 include: Southern Italy, Berlin, Copenhagen, Doha, Abu Dhabi and Dubai, New York.
Workshops in the UK include: London, Cambridge, Dorset, Cornwall, Wales, Manchester, Glasgow and Edinburgh. Plus studio workshops in Beckenham, South East London.
Studio Workshops
Studio workshops are limited to 4 people and are held at my South East London studio on the 1st floor, Beckenham Place Mansion, Beckenham Place Park. BR3 1SY
How to photograph your pet/child/hobby?
Beginners and advanced studio lighting.
Creative lighting with gels, Ultra Violet and Infra Red light.
How to create a documentary project.
The family album and featuring collections on your walls.
How to photograph nature.
Currently offering Drop-in sessions at Beckenham Place Park Mansion
So what makes me qualified as a Tutor? As well as practising Photography for 30 years, I have studied 9 years of intensive college/university courses in Photography including a Degree in Contemporary Media Practice. I am still constantly learning and striving to be the best I can be. These are some P/T Photographic Tutor Positions I've had in Further Education:
City Academy, London
Beginners, Improvers, Documentary and iPhonography workshops 2017/19

College of North West London
Digital Imaging Summer School 2005
AS/A2 Level Art & Design Photography 2004/5, Winter Term 2005/6
Westminster Adult Education Service – Jan 2001 – Dec 2002
BTEC PDC Level 4, Introduction, Black & White Printing, Advanced Printing Techniques, Special Needs Group Travel Training & Photography.
Barnet College
Beginners & Advanced Photography 2000/2
My Qualifications:
BA Contemporary Media Practice/University of Westminster, 2000/4
BTEC Access to Media – 16 Credits Level 3/Hendon College, 2000
London Institute Diploma – Studio Assistants Course/London College of Printing 2000
BTEC PDC Photography & Digital Imaging – Westminster Adult Education 2000
GCE A' Level Art & Design (Photography) Grade A plus LOCN Photography – College Of North West London 1999
GCE A' Level Science (Photography) Grade A, GCSE Photography Grade B, City & Guilds 123 Photography, Landscape and Portraiture at Wulfrun College, Wolverhampton 1989/91